Family, friends keep agent's memory alive
By CHELCEY ADAMI, Staff Writer | Posted: Friday, July 25, 2014 12:55 am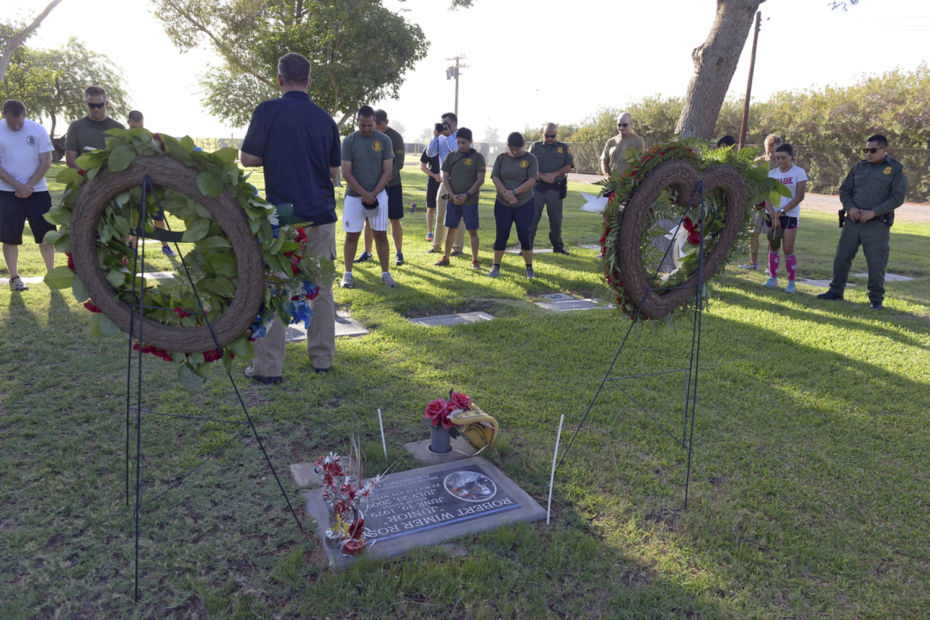 Family, friends keep agent's memory alive
Border Patrol Agent and Chaplain Roy Hicks (left) leads in prayer during the fifth annual Border Patrol Agent Robert Rosas Memorial Relay Run at Evergreen Cemetery on Thursday in El Centro.JOSELITO VILLERO PHOTOThursday, July 24, 2014
The fifth annual Robert Rosas Jr. Memorial Relay Run ended with tears, smiles and hugs at Evergreen Cemetery early Thursday.
The event commemorates the popular El Centro local who was often jokingly referred to as "the mayor of El Centro," and his young son and daughter have grown up attending the event annually.
In the 68-mile run, most participants run 2.55 miles, in honor of Rosas' call sign, while others go above and beyond to run 25.5 miles.
It began with a solemn ceremony on Wednesday evening at the Campo memorial cross at the site of where Rosas was killed in 2009 by several men who illegally crossed the border, ambushed, and fatally shot him.
The run ends with a prayer at his gravesite, and Rosas' 7-year-old son Matthew led the group in its final leg into the cemetery.
"They make me so proud when they're out here. They're growing up too fast," Rosas' cousin Denise Robles said of his children. "I miss him (Rosas) dearly. He loved being an agent. It's one of those things where he'll never be forgotten and we're grateful for all the support."
Border Patrol Agent Frank Santos was friends with Rosas and organizes the annual relay run.
Seeing Rosas' children participate is "huge for me because they motivate us," he said. "A lot of the times that they come out here, we're going through sleep deprivation and going through the gamut of emotion so when I see them and when I hear them, it allows us to push forward."
Santos was one of two runners to complete 25.5 miles of the memorial run this year.
"It was hard, it was extremely arduous. It was difficult and it always is, it doesn't seem to get any easier," he said. "I think about that night, and I think about Robert, him having to fight and defend himself, and the pain he must have endured and the pain his family still endures with the loss and it enables me to put the pain, the physical pain that I feel and the anguish that I feel, to the side and continue to move forward."
Santos led the crowd in a moment of silence on Thursday, and thanked participants and supporters for coming out.
Robert Rosas' wife, Rosalie Rosas, and their children stayed up all night with the runners, and she told them that they help her family to continue pushing on.
"We're just so grateful and never imagined as much support as everyone has given us and we appreciate it," she said.
Border Patrol Agent Delila Lira was the first female agent to ever run 25.5 miles of the memorial relay run and said she also was encouraged by the family.
"I think it helps them heal so as long as she wants us to do it, we'll be here," Lira said.
It was the first year for Border Patrol agent Geo Rodríguez to participate, and he ran eight 2.55 mile legs of the run.
"It's a good opportunity to honor Robert and pay our respects in that manner … I may not have know him personally but I felt it was the right thing to do to honor his family and pay his respects," he said.
Rosalie Rosas serves on the board of the Border Patrol Foundation, which provides assistance to families of fallen Border Patrol agents, and encourages anyone who would like to help to visit borderpatrolfoundation.org.