Operation Invisible Shield highlights Border Patrol's use of force policy
By JULIO MORALES, Staff Writer | Posted: Wednesday, April 13, 2016 1:40 am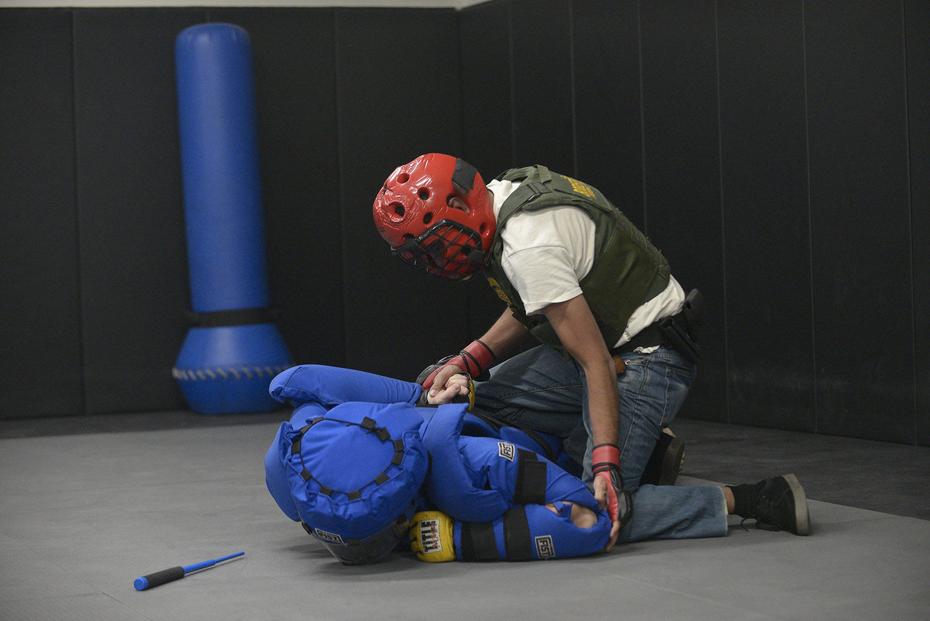 Operation Invisible Shield highlights Border Patrol's use of force policy
Julio Morales, member of the media, subdues a suspect during a training scenario Saturday at the El Centro Border Patrol training building. FERNANDO ACOSTA JR. PHOTO
IMPERIAL — It should take no more than .38 seconds for a highly trained U.S. Border Patrol agent to determine whether they will have to use force to detain a subject during the course of their duties.
Likewise, it should take an agent the same amount of time to determine whether they are in a position to deploy tactics to help de-escalate an already dangerous situation, said Border Patrol Agent and defensive tactics instructor Alessio Faccin.
"We spend a lot of time teaching agents how to de-escalate a situation," Faccin said. "It's probably one of the hardest things we have to do."
Much like any other law enforcement officer, a Border Patrol agent has to make split-second decisions in possibly dangerous and rapidly evolving circumstances. But unlike many other law enforcement agencies, the Border Patrol has launched on a venture called Operation Invisible Shield that provides the public an opportunity to learn about its use of force policy and training, as well as try their hand at being an agent in the field — albeit from the safety of the sector's headquarters.
On Saturday, the El Centro Sector hosted a few members of the community and the media to take part in Operation Invisible Shield, so-named to allow the public a glimpse of the faces behind the badges.
Border Patrol officials also took the opportunity to make it clear that such use of force encounters are far from the norm.
"In 90 percent, if not more (of encounters), there is no consideration of use of force," said Assistant Chief Patrol Agent David Kim.
Locally, the El Centro Sector reported 65 reported use of force incidents in fiscal year 2016, none of which deployed a firearm and 59 of which deployed less lethal action, according to data provided by the agency.
Those figures closely reflect reported incidents from 2015, which also had no reported use of firearms, and 57 reported uses of less lethal action, which can include hand and feet strikes, pepper spray or a baton.
Aside from an agency-issued firearm, Border Patrol agents are also required to carry on their person their choice of a less lethal instrument such as a collapsible baton or pepper spray, or both, officials said.
The agency's use of force policy and training also makes many references to case law, and in particular two U.S. Supreme Court cases, that has greatly impacted how force can and can't be deployed to seize a suspect wanted in connection to an alleged crime or investigation.
Agents also must undergo such extensive classroom and defensive tactics training four times a year.
"It's not a lot, but we're one of the agencies that do it the most," Faccin said.
In the last two years, the agency has bolstered its efforts to have agents retain as much of that applicable legal knowledge as possible, he said. Yet, Faccin also acknowledged that such concepts are hardly at the forefront of an agent's mind when faced with a dangerous situation.
"What I will do in a given situation is determined mainly by the behavior of the subject," he said.
As part of the interactive public outreach program, participants learn about the "use of force continuum" that governs the level of force an agent can legally deploy in response to corresponding levels of a subject's compliance or resistance.
Afterward, participants are given the opportunity to put their newly acquired knowledge to the test by taking part in simulated field operations no different from the exercises that agents themselves perform as part of their annual training.
In one training exercise, participants are "armed" with laser-emitting replica firearms and less than lethal instruments and placed in a room with projection screens arranged in a nearly 360 degree panoramic view. As a scenario plays out on screen, participants must decide whether the situation calls for any use of force, or quite possibly deadly use of force.
In another exercise, participants face off against a "suspect" whose behavior is supposed to also test one's newly learned defensive tactics.
Although he was left a little sore from the physical demands of Operation Invisible Shield, Tomas Oliva said it was nonetheless an eye-opening experience that gave him a newfound appreciation for the work of law enforcement officials.
"I can only imagine the level of training they have to go through to be comfortable in any situation, especially a physically intensive one," he said.
During the simulated field operation in the projection room, Oliva had the misfortune of shooting an unarmed suspect that had attempted to flee the scene at the exact same time that another suspect had opened fire from an opposite location on the projection screens.
Afterward, he couldn't help but think that maybe he wasn't exactly cut out to make such split second life or death decisions.
"It stays with you, and you're very mindful of it," said Oliva, who took part in Operation Invisible Shield in his capacity as a senior field representative for Congressman Juan Vargas.